MiG33 Double Attack v1.0 Full Version (Recoded)
kalo yang dah pernah pake MDA LIte,pasti gampang make ini...
soalnya sama aja,cuma penambahan migpro dari 30 jadi 60 wew!!
cuma ada tambahan beberapa fitur,misale:
*tombol
hide,kalo u ngrasa migpronya ngrusak pemandangan,injek aja tombol
ini,sebagai gantinya,ntar keluar window status wat ngontrol migpro
kamu..
*tombol show,wat nampilin migpro,n otomatis nutup window status.
kalo migpro nay tetep ga mau keluar,minum baygon aja wew!!
*window status,wat nampilin status migpro yang ngumpet..
*tombol start (window status), secara default,tombol ini ga perlu diklik,tapi kalo status ga keluar,coba aja klik tombol ini..
*tombol close (window status) wat nutup window status,n otomatis (kalo ada) migpro ditampilin..
*always on top, w akin dah pada tau wew!!
*konfigurasi IP ada di tab data 2,kalo awal dah set IP 101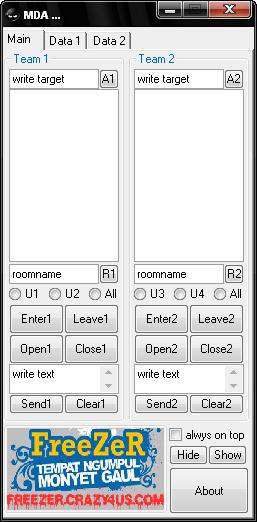 Quote:
MiG33 Double Attack v1.0 Full Version (Recoded)
If u ever use MDA Lite, this must be easy to use this..
Coz it same, just adding migpro from 30 to 60 wew!!
Just adding some new feature, example:
*hide
button, if u feel the migpro view is annoyed, press this button,
instead, it will appear window status to control your migpro.
*show button, to appear migpro and close window status automatically.
If the migpro view not appear, drink a toxic wew!!
*window status, to viewing hiding migpro
*start button, (window status), by default, this button needn't to click, but if the status not appear, just try to press this
*close button (window status), to close window status and (if available) migpro will appear automatically
*always on top, I'm surely u're all know
*IP configuration at tab data 2, if early have set IP 101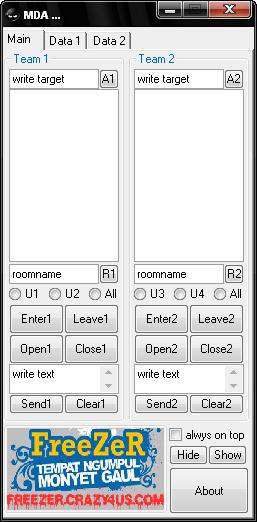 sugizaki wrote:
new link
Code:
4shared.com/file/77197294/102897b1/MiG33_Double_Attack_Full.html?s=1