Announcement of winner of US$2.ooo / Rp. 2.000.000,- will be made on Friday 29th May at 14:00 GMT / 21:00 WIB.
Pengumuman pemenang undian 2000 US $ / Rp 2.000.000,- akan diadakan hari Jumat jam 21:00 WIB.
Datang dan saksikan dengan bergabung di Live Draw Stadium yang berkapasitas 5000 user.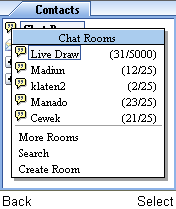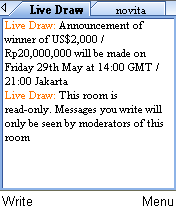 Seperti itulah suasana di dalam room (stadion) tempat pengundian tersebut.
sapa tau dapet......
hehehe